Hirondelle

Further Information Welcomed

Colibri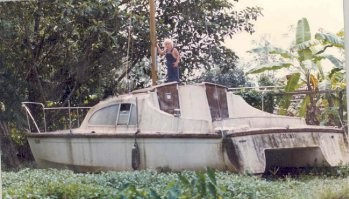 She was purchased by one Percy Corsby in, I think, 1971 in Guyana as a partly finished boat. Percy, now deceased, was a member of the Georgetown Rowing club and the Colibri was our mother ship for several years. At that time I owned and raced an arrow cat in the club.
Percy sailed her to Trinidad and Grenada a couple of times and we had great fun with her on the Demerara river for several years.
I am a CivilEngineer and left Guyana to work in other parts of the world.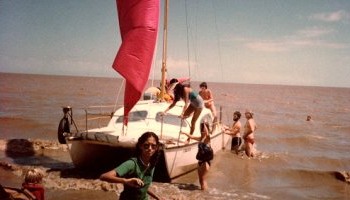 I returned in 1978 and found Percy had become disillusioned with sailing and Colibri was lying in a sad state on the banks of the Demerara River. See Photo with my son on top. Percy sold her to me.
The sails and running rigging were in a poor state and all the woodwork was rotten but the standing rigging was still in excellent condition.
I worked in Guyana until 1982 and we used Colibri as the mother ship for our project outings carrying up to 20 cases of beer and small children etc. Usually going to Tiger Island Beach in the Essequibo river. The other grown ups arrived in a mixed flotilla of Mirror Dingys, Wind surfers, local Balahoos and one lazer.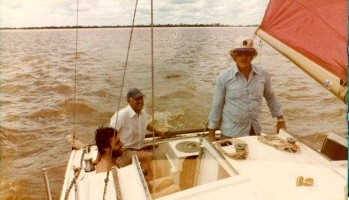 Much fun was had and a couple of my team helped me strip the boat inside out and refurbish her. This was a labour of love which took several years. We gradually bought new sails and running rigging as money allowed. I had two small children so money was not plentiful for things like boats.
We gradually got things together and had many happy days sailing in and around Guyana.
With a crew of three we sailed first to Trinidad, 300 miles, then through the Grenadines where the longest open water was Trinidad to Granada about 100 miles. Here we met a force 7 head wind in a 3 Knot cross current.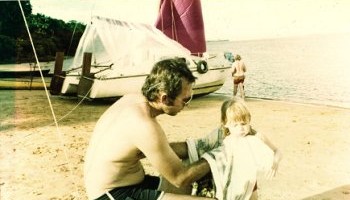 Then we sailed up through the Islands to Antigua surviving a line squall on the crossing from Guadeloupe to Antigua and finishing up in English harbour.
En route we watched the Bastille day fireworks off Martinuque, weathered a few squalls and met many people who were absolutely amazed that we had done around 1000 miles in such a small craft.
There were many exciting happenings like the loss of a rudder in the Orinoco mouth at 3 in the morning (always happens then doesn't it).
The whole journey took around 7 weeks after which she lay in "Crabs" in Antigua where my friends sailed her and I did same whenever visiting from UK.
Finally we sold her to a French man who left her on a buoy during a storm and she broke away and was dashed to pieces on rocks. A sad end to a brave little boat.
Chris Swayne - 16th May 2009